We'll be keeping a ship's log as a diary of our progress. It'll track our major hurdles on our way to the start line from where we'll be keeping it up to date while we're actually at sea – assuming we can keep the technology going.


We have now left for the race start, and this blog now continues on "The Ship's Log - Race Diary". Click here to read it.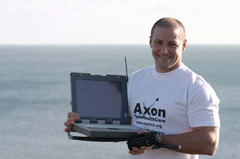 We're now working with Axon TeleHeathCare, a UK based company that has developed specialist technology, which will allow our land-based diabetes support team to monitor Neil's diabetes in real time.

Throughout the row, Neil's blood glucose levels will be regularly monitored using a normal finger-prick tool that has been developed to automatically transfer the data collected to our on-board pc, then transferred via satellite back to the medical support team we have in the UK.

It provides great peace of mind knowing that the team aren't just hearing from us if there is a problem, but are constantly able to monitor Neil's condition remotely in real time – and contact us if they have any concerns too.

In addition to the specialist software, Colin Harding and the Axon IT team have provided the hardware required – a normal pc, linked to a satellite modem – and the systems support to get everything working smoothly and easily. You can learn about the company and the product at www.axonuk.org, and see our feature on their news page by clicking here.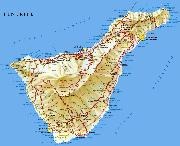 We deliberately put in place a plan that saw Neil leave the UK ahead of Scott, in order that he could inspect the boat as it is unloaded. In the event of any damage or a need for critical hardware, it allows Scott a few days to source it and bring it out with him.

Although most of our gear was shipped with the boat, we both have quite a bit of luggage to take out. Unfortunately one of Neil's bags did not arrive – leading to an extra day in Tenerife waiting for the bag to catch up. Luckily it arrived the next day. Neil arrived in La Gomera on Saturday 17th. Scott follows on Tuesday 20th.



We've always known we work well together – getting this far has already seen us having to pull together, stay focused, and rely on each other's strengths – but when we heard Suzanne was up for giving us an extra boost, we knew it would be good for us.

Suzanne is an expert coach and mentor and, in retrospect, meeting with her just before we head out for the race start was ideal timing. We were able to reflect back on our preparations and took time to move psychologically from preparing to row the Atlantic, to actually going out to row the Atlantic. We've put a lot into getting the things within our control and influence sorted – it's now time to put it all into action. Bring it on!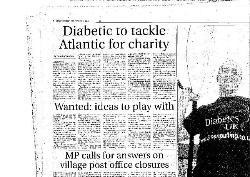 A really good piece in today's paper covered Neil's view of the event and the impact of diabetes. Unfortunately we've not found an electronic link to the article, but as you can see from the scan, Neil filled most of the page!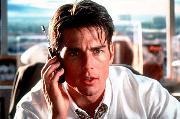 This time next month the race will have started. We'll be beginning to feel the pain! With that in mind it's good to see our fundraising target is now storming ahead, and today it passed the £12,000 mark. Still a way to go until reaching our target so please continue to spread the word about what we are doing! We also still need corporate sponsorship and the main hull remains unbranded.... if you know someone, let us know!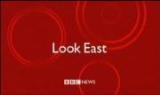 Click here to see Scott and Neil on the TV!

We spent some time with Jo Black and her team from the BBC filming a piece that went out on today's news. It was great fun – and even managed a decent workout by rowing throughout the different 'takes'.

Along side Neil and Scott are Colin Harding, from Axon TeleHeathCare, and Chris Holt, our coach and personal trainer from Cannons Gym in Letchworth.

Click here to watch it again!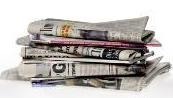 All of a sudden things seem to be moving at a really quick pace. We're now attracting a lot of support, and beginning to generate a bit of noise in the media, which is great to be part of, and good for our diabetes awareness and fundraising goals.

Neil has been featured in two more recent articles;

- one in the Welwyn and Hatfield Times – click here to read it

- and also on-line at Diabetes UK – click here to read that one too.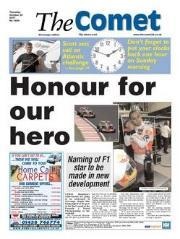 Click here to read the story featured in The Comet. As well as a half page on the inside, it made a picture on the paper's front page too...... Though no link to the main story title! Click here.


22 October - Nice one Dave...


At the Launch Event, David Taylor of Independent Drinks Supplies Limited, had agreed to run a bar for us - providing fridges and his time. Following the event David also agreed supply all the drinks that were supplied too, for free! This means the entire takings from the bar were donated to Diabetes UK. Nice one Dave!

David runs The Kings Head pub, in St.Neots. On our return next year, we'll be working with Dave to do a post race event at his pub.



In the run up to the Ocean rowing team's fund-raising adventure across the Atlantic, we are marking this momentous occasion with a harmless sweepstake.

To join the fun contact Scott at scott@2menpulling.co.uk who will explain more about how to join the fun.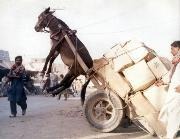 So, it's Friday 19 October, and the boat is due at PA Freight, the company that is organising shipping of the boat from the UK to the race start in La Gomera.

Neil loads the boat and heads up to Newark. All is going well until he stops for petrol at a service station and notices one of the trailer wheels looks a little odd. A quick kick to test it – and it falls off! The whole wheel and drum came free, exposing the axle and a disintegrated bearing!

No doubt the wheel base has been under considerable stress and strain as we have been taking the trailer and boat on various training and other outings.

What should have been a relatively short trip up to Newark and back, turned into an epic for Neil – getting home at 7am the following morning, after organising a flat bed lorry to load the trailer and boat onto, then escorting the giant piggyback of lorry, trailer and boat up to Newark.

However – we count ourselves lucky. Losing a trailer wheel could have been much worse. Fully laden the boat weights in at an astronomical weight and losing control of the trailer on the motorway could have spelt an end for our dream.

Neil got the boat to the freighting company……. We'll worry about the trailer later….. when the boat needs collecting after the expedition – probably some time in march 2008!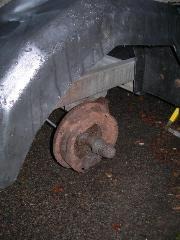 Neil – "With the extra weight on the now fully laden boat, it was my ageing car that I thought would struggle up to Newark. Not so, as the trailer proved! Stopping at Watford Gap for fuel, I noticed one of the trailer wheels sitting at an odd angle. I chose to ignore it at first in the hope it was all a bad dream, and carried on filling up and paying only to return to the same problem! The AA were called, and a swift five hours later,a flat-bed lorry arrived, and trailer and boat were expertly loaded up.
Andrew Morris from PA Freight was kind enough to come out at what was now 10pm to open up and off-load the boat and trailer in Newark, and the recovery vehicle driver is now an expert on ocean- rowing after seeing a yard full of boats and getting to watch a short clip of Andrews' crossing in 2005!

We now have until the end of March next year to get the trailer sorted out, but that's the least of our worries and it's such a relief to finally have the boat safely in its cradle ready for shipping."



Scott was invited on air for the local BBC radio breakfast show. You can listen to the interview, as well as watching photos from the Launch Event by clicking here.

We've also been featured on BBC on-line. Click here to read the story.

Scott - "This was great fun. I had no idea what questions were coming - but it was lighthearted and jovial. Hopefully the team will contact me again for a live interview while we are at sea......I wonder how jovial I'll be then, especially if it's Christmas Day!"


We held our Launch Event at the London Canal Museum on Tuesday 16 October. It was a great event and was attended by a mix of supporters.

We dressed the venue in a Caribbean theme with the support of the Antiguan High Commission, so the event kicked off with a rum punch reception (using Angella's secret St Lucian recipe!).

The formal part of the evening began with a short address from Douglas Smallwood, Chief Executive of Diabetes UK, followed by our Team Patron, Richard Lane OBE. Richard was the first UK diabetes transplant patient, and he talked about the real and personal results of the reearch work that is done.

The "Scott & Neil Show" followed. We talked about the main risks we face of sharks, shipping lanes, weather systems and the impact of diabetes. We also spoke of our experiences to date and played some recorded film from our training at sea.

The highlight of the evening was a charity auction. Our auctioneer, Dermot Mathias (Chairman of BDO International) was outstanding and clearly enjoyed baiting the crowd into some seriously high bids! He kicked off with a message to us from previous Atlantic rowing race winner, Clint Evans, and followed this with an entertaining, and demanding auction.

Kerry Johns and the team at Diabetes UK had spent time in the few weeks leading up to the event sourcing a number of great prizes for the auction. In total the auction collected £4,000 – all for Diabetes UK.

Credit for the success of the evening lies with Angella Cassius. Angella kept all involved in line and coordinated bringing everything together……. and, working with HP Caterers she managed to find time to put on a full buffet too!

Thanks to everyone who supported, attended, and created a great evening.

You can see photos from the event, along with some film clips from our training sessions in Weymouth Bay by clicking here.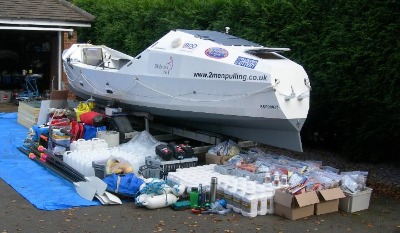 Photo shows the boat, and all the gear that needs to go on board. Food, water containers, safety gear, electrical equipment, spares, oars….. you name it – it's there!

After two solid days of preparing ration packs, gathering the gear we'll need at sea, final checks over the equipment….. we are almost ready. We put everything together to see just how much needs to go on the boat – it's a huge amount of stuff, frightening how much it all weights, and amazing it all fits on the boat!

For food, we'll be taking around 7,000 calories a day. A mix of;
- Sports nutrition drinks supplied by Maximuscle - if fact there are around 200kgs of powders on board!
- Ration packs – each day pack contains, for each of us, 3 hydrated meals, 1 chocolate bar, 1 protein bar, 1 peperami, 1 cereal bar, a bag of nuts/sweets, soup, and tea/coffee.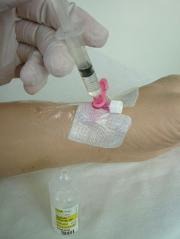 Dr. Alistair Lumb has generously been giving us a crash course in intravenous cannulation. This involves inserting a plastic pipe into a vein, connecting a giving set and delivering a saline drip.

Despite the fact that we will be wet, and on water the entire time, dehydration is a big risk for us. We will be dependant upon our watermaker for fresh water, which in turn is dependant on the solar powered battery source. Also, it may be that we are unable to keep water down from illness or seasickness. We reckon we'll need around 12litres of water each per day to keep working at full capacity.

The risk for us is increased - diabetes and dehydration don't mix! It's for this reason that Dr. Lumb has been giving us training, so that in a worse case scenario Neil can be hooked up if required – giving us enough time for rescue.

Given we'll be carrying drip equipment on board, it made sense for both of us to be trained in using it. Now we can both deliver and make use of the drip should it be needed.

Scott - "This was a great investment. I have to admit I felt a little queasy when we first started. It was definitely a case of the imagination taking over....I was thinking about just how bad things will be if I actually need to do this for real. However, like most things in life, the reality of carrying out the procedure was fine - I'll have no problems doing it for real - if I have to!"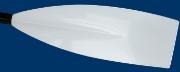 We now have our oars too! We needed to replace a couple, plus we wanted a couple of spares. We have been working with advice from the current champion, Clint Evans, on gearing...... a complicated balance of distances between the handles, the spoons, the rower and the gates. We reckon we've found a good balance between the power required to pull the oars, the weight of the boat, and the speed we can achieve!



We've had great help in sourcing our freeze dried meals from Bill Cooper and the team at Vestey Foods UK. His help has been invaluable - especially as we left sourcing until quite late. It's a relief to now have the other principle food source (along with the Maximuscle products) for our high calorie diet.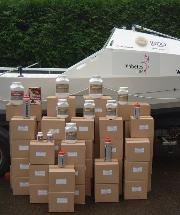 We've been spending more time with the nutrition expert at Maximuscle – Lynn Clay. Lynn has been working out our expected adjusted metabolic rate during the periods that we'll be rowing and calculating the number of calories we'll need during the expedition. The trick is finding food sources that provide the highest volume of calories with the minimum of weight, along with the right mix of protein, fat, carbohydrate and fibre. Of course it needs to be tasty too, with some variety, and low in volume to avoid overly full stomachs when we're rowing. This is where the Maximuscle energy products simply outperform anything else.

After working through the numbers, and gathering information from people who've attempted this in the past we believe we've got a suitable menu sorted. Supplying the +7,000 calories we will each need each day!

The first of our food parcels arrived today – fresh out the Maximuscle warehouse, here is a photo of the volume of product we'll be carrying (yes the boxes are full)…… and this is just half our food load!

Scott – "It's scary just how much food we need to take. It certainly puts a perspective on the scale of what we are about to undertake".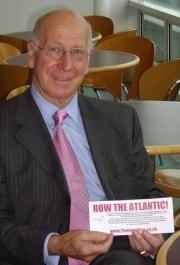 Neil - " I was privileged to be asked to not only attend, but say a few words at the Royal Society of Medicine Sport and Diabetes conference in Manchester. There were many experts from their fields of work giving talks on a variety of diabetic subjects and also I was lucky enough to share the floor with four outstanding diabetic sports people, including Sir Steve Redgrave. In my talk I gave a brief outline of what we were doing, what problems we may encounter due to my diabetes and how we will be dealing with these problems considering our environment.

The conference was opened by Sir Bobby Charlton, and I was lucky enough to share a few words over a coffee before the conference started!

Overall it was a great experience, I also learnt a few things about diabetes and it is great to see that there are people working extremely hard to not let diabetes stop you living a normal life."

The photo, taken at the RSM event, of Sir Bobby Charlton supporting the 2menpulling adventure! See more pictures in the runsweet.com gallery.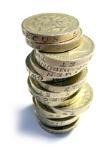 Still a long way from reaching our target but today the total raised passed £4,000. In fact, including Gift Aid which will also be recovered, the amount is just under £4,500. If you haven't yet got round to making a donation, please don't hold back!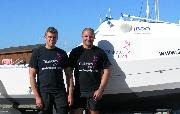 We headed down to Weymouth again for another weekend out at sea. This time looking to spend the night on the boat, rowing throughout the night. We wanted to do this for a number of reasons, firstly to build an awareness of what being at sea at night is like, secondly to run through our 2hr-on 2hr-off routines over a longer period of time and identify and fix any problems, and thirdly to monitor the impact of the sports drinks we'll be using on Neil's blood glucose.

We travelled down to the coast arriving into Weymouth very late on the Friday night, then we were up early on the Saturday morning. First thing we fixed some of the branding to the boat – making quite a difference to the otherwise white boat – though we still need a headline sponsor to brand the main body of the boat.


We then made our way down to the harbour where we were met by a photographer from the Dorset Echo. He took few photos which ran in a story later in the week. You can read the Dorset Echo story here.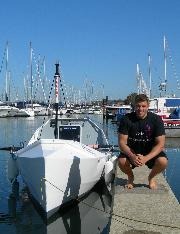 The boat would be light compared to when it will be fully laden with all our food so we increased the volume of water ballast on board to compensate. In all we took more than 450lts of water ballast in 5lt containers beneath deck. Fully laden she is heavy, weighing in at around 1000kg! Hence she is low in the water, and looks much smaller.

Clearly the boat is much heavier than a river rowing boat (which typically can be lifted by one person), so we have been taking advice from the champion of the last race, Clint Evans, on oar lengths which affects the gearing, and effectively how 'heavy' the boat is to row.



We were soon ready to launch and before long we were heading out of the harbour. Once into the main bay, we worked straight into our 2hr-on 2hr-off plan and a route plan that saw us rowing in large triangles with around 2miles between turns. This allowed us to trial the steering, oar gearing, and navigation set-up which worked well and we had no problems at all in heading for and reaching pre-arranged grid reference points. Both rowing positions now have independent steering functionality – so we can choose to row from either position and control the direction of the boat through a mix of effort through the oars and a footplate which adjusts the small rudder at the rear of the boat.

We also tested our VHF equipment, with our first ever "call-check" call to Portland Coastguard – confirmation of a loud and clear, strong signal was good to receive.

Mid afternoon we were approached by another boat, and the skipper introduced himself as Gary Fooks. Gary rowed the Atlantic in 2001 – in the same race that our boat first competed. It was great to meet, to swap a few stories, and have some helpful tips for rowing in the bay where Gary had trained in a similar way for his race.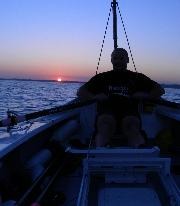 We continued rowing throughout the night, which was great experience – if a little eerie, a near miss with a large unlit buoy had an ominous presence! We were able to get some rest between shifts, typically a good hour or so rest.

We were probably the only vessel moving in the bay through the night. In the very early hours there was an "all stations" call from Portland Coastguard. We waited a while to see if any other vessels picked up. With no replies, Neil responded. We explained that we were in a small rowing vessel, and hence our 2mph speed meant we were of little assistance to their needs!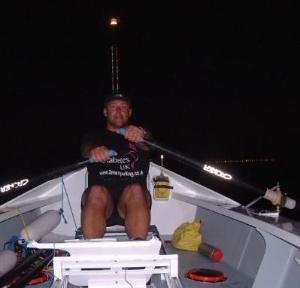 All went well throughout the night. An expected SW wind picked up mid morning on Sunday, meaning we had to row two-up together in order to move the boat back through the walls of Portland Harbour and into the open bay, then back towards the shelter of Weymouth Harbour. We moored up and called it a day around midday. In all we averaged over 2mph, and covered well over 40 miles in less than 24hrs.

Scott - "I really enjoyed this trial session. We learnt alot from the last time we were at sea that was put into practice this time. I'd thought the 2hrs-on 2hrs-off would leave me tired and aching in the days following, but the gym work must be paying off ..... My hands were left sore from blisters, but otherwise no aching muscles at all, which is great!"

Neil - "It was great to get out on the water again and the whole weekend went really well. Had a taste of the two hour shifts and tried to simulate the routines we expect to have as best as possible, but I'm still to use the bucket! Rowing through the night was strangely pleasant and apart from a backside that felt as though it had been smacked by a cricket bat all night, felt great and gave us another taste of things to come."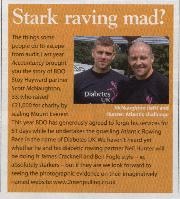 It's been a while since our last update, but that's not to say there hasn't been a lot happening!

Neil has continued work on the boat – focussing on replacing hatches, sorting the main deck, and acting on the changes we'd identified during our last sea trials. It's looking fantastic....

We've been working on the PR plan. Our corporate supporters are working together to create a PR plan across various media, and keeping it flexible to fit in corporate sponsors as they come on board. You can read the first press release here....

We've both been putting a lot of time and effort into the gym. A mix of weights, ergo sessions, and other cardio work...

And we had a small piece in the back of the September Accountancy magazine.

The picture shows the short article featured in Accountancy magazine.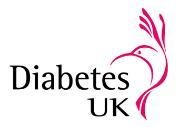 Our pr machine is now beginning to roll. We've pr support from BDO Stoy Hayward, Maximuscle and Diabetes UK. Today the Diabetes UK link went live. Click here to visit the site.



The impact of the non-stop endurance on Neil's diabetes condition is unknown. We have been unable to find any research on anyone else undergoing this kind of non-stop activity and for this reason we will be taking and recording data for subsequent diabetes research while we are at sea.

Neil has been undergoing training sessions taking regular blood glucose readings in an attempt to predict the impact during the full event. From early on Neil has been supported by advice from expert diabetes and sport consultant Dr. I Gallen - who also works with Olympic rower Sir Steve Redgrave (also diabetic). Dr Gallen is involved with the www.runsweet.com website. Through Neil's connection with Dr Gallen and Runsweet he has been invited to join the presention team as part of a Royal Society of Medicine event in Manchester on 25 September 2007. Click here to read more about the RSM event, and here to learn more about runsweet.com



Click here to read the on-line version of the article about Richard's pioneering transplant treatment. The Observer



The sports nutrition experts, Maximuscle have offered us help with our training diet needs, drawing on the expertise of Lynn Clay. This is really vital for us, not just because of the diet issues during training and at sea, but with the management of the diabetes issues too. Thanks Maximuscle.


Coastal waters are notoriously bad for ocean rowing boats. Without any wind or tidal assistance we can only move the boat at about 3.5kts (3.5mph). Hence any adverse weather conditions that exceed that, and are working against the direction of travel, can't be overcome. In the middle of the ocean teams simply drop a special sea anchor and sit out the bad weather storms, but in coastal waters there is a high risk of being swept ashore - not good for a plywood boat.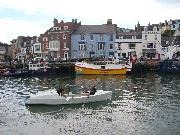 However, we've decided we'd like to take her out on the water. Get the boat working under pressure. We want to run through some of our sea routines and check equipment for real. The river we have been on so far doesn't allow this level of authenticity and the local water authority won't let us use the nearby reservoir. So, we decide to launch from Weymouth…….



Scott – "A couple of weeks back I was in Weymouth and checked the accessibility of the slip road and boat access. Looks ideal. In the days running up to the weekend we were both checking marine forecasts, consulting with people who know the area and local tides etc. Conditions aren't ideal for us, but we decide to go for it.

We head out to Lulworth Cove, about 10miles along the coast. We reckon it will take a few hours to get there. We leave harbour at about 10.30am, knowing the wind is due to ease from early afternoon. It's great, we make good time and work our way across the bay. Around 12.30pm we notice the wind and water state picking up. We're at Durdle Door, about 8miles out, and decide safest to turn back.

As the afternoon passes the wind gets stronger and the choppy waves really throw the boat around, occasionally crashing over the sides. The wind, sea state and difficulty in rowing in the chop means our speed gets slower and slower as we battle into the headwind. After several hours we are only halfway back, however our speed over ground is now at a snails pace – and we've both been rowing non-stop for around 5 hours, and we still have 4miles to go. We can't even take a break since one of us stopping means we lose both direction of the boat, and move backwards! We decide it is safest to head for one of the sheltered areas that we had been noting on our way out. We moor up on an anchored buoy – make the boat secure leaving all our gear behind – then swim the 30mts ashore. Luckily Isabelle and her mother are close by and pick us up!..... Afterwards I speak with Nicole's neighbours Andy, Jean and Tom (experienced deck-hands!) who tell us the winds were at 20kts, and conditions were up to Force 6 & 7....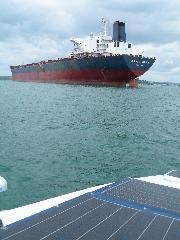 The next morning we make an early start. Swim back out the boat. She's fine having spent a night on the sea in a relatively heavy storm - which adds further to our confidence in her. Within minutes we've pumped the bilge clear, and cover our first mile back to harbour in 15minutes! We're cruising along - quite a change from the previous day. We spend the afternoon working through various routines in the shelter of Portland Harbour before heading back in to Weymouth harbour. The weather is even good enough for a swim - who says there's a Great White off the coast!?!.... it's the tankers to watch out for!

A really great weekend. Masses of learning, great experience, and best of all, Neil and I worked together, made sensible decisions and kept our options open."

Photo taken inside Portland Harbour - on the much calmer Sunday afternoon.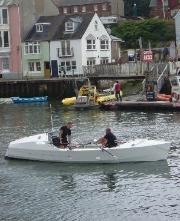 Neil – "Weymouth it was, so we set off having consulted many forecasts. General consensus was for moderate wind and sea state improving as the day wore on. Game on!

Felt great to be on the waves at last and we made good way, heading off towards Lulworth Cove. After a couple of hours of trying out various rowing position/oar length combinations, we noticed that the sea was becoming more choppy and that the wind had started to pick up considerably. With this, we decided it was best to turn around.

We were only making 1 – 1.5 knots rowing together against the wind and the short choppy waves weren't exactly aiding progress. So much for the forecast! Spoken words were replaced with strains and grunts as we battled to make our way back. It was soul destroying seeing the same shoreline not moving. We had been rowing together for 5 hours and were now only making half a knot! At this rate, with 4 miles to go, we would be getting in after midnight. Mid Atlantic we would have deployed our sea anchor and retired to our cabin for a DVD and some popcorn! Not so here, as the shore line and rocks were looming closer. The decision was made to head for safety and row towards Ringstead Bay to moor up and re-assess. Once tied up, we called the cavalry and swam ashore with some bare essentials sealed in a watertight tub.

Sunday morning saw the bay looking like a mill pond and the sun was out too, (forecast on Friday said rough seas with rain!). Fortunately our boat was still tied up and also the right way up. After a bracing swim out (I made it more like 130 metres!), we rowed our first mile in under 15 mins. Conditions were great and even allowed for a short swim break.

Our watermaker was tested again successfully, along with various other pieces of kit and all made for a quite an exciting and very useful weekend. Had a good workout too!"

Photos in Weymouth Harbour, as we return from our sea trials. [Credit N Leathes].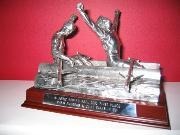 The last trans-Atlantic race was won by Team C2 - Clint Evans and Chris Andrews. We met with Clint for a training session on the rowing machines, and some tips from the top about the trip and our preparations. More invaluable advice. Thanks Clint.

The photo is of the winners trophy – currently held by Clint and Chris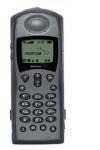 Scott - "The sat phone technology we have on board will be invaluable on our trip and a necessary medical back-up. I meet with Jeffery Barber at GMPCS who helps work through the various issues we have with our systems. We've a few bits to add but looks like we have two separately working sat phones - capable of working anywhere on earth (as long as there's a clear view of the sky to connect to the satellites). We also have technology to link this to an on-board pc allowing us to text message more easily - though it doesn't provide internet access."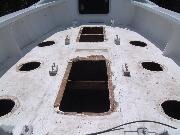 Neil – "Although we received our boat in good condition, there were still some necessary repairs and alterations to be carried out....A re-spray was required due to bleaching around the previous sponsors logos and also because of some bumps and scratches. Without adequate shelter, the great British summer played havoc with preparation work, but the deadline was met and she now looks totally refreshed.Other necessary changes have involved replacing all deck hatches, refurbishing the rowing positions and seats and a new coat of anti-fouling paint has been required amongst many other extras including the fitting of a bilge pump to the outside of the cabin to enable it to be pumped out in the event of a capsize! (Hope it doesn't get used!!)"

Scott - "After the paint job, Neil sets about working on the leaking hatches and worn rowing positions. This isn't an easy job….. The hatches are fixed hard, meaning they're extremely difficult to remove, we can't find replacement hatches of the same size so Neil has had to replace areas of the deck. The rowing positions have bespoke engineering, and sourcing spares and replacements is like finding a needle in a haystack. Slowly, and hampered by the poor weather in June and July, things come together. By the end of July the deck is looking pretty darn good, the rowing positions are back in place and we're ready to take her out to sea!"

The photo shows the deck, stripped back and hatches removed.



One of the key pieces of kit on board is our watermaker. We will be reliant on it not just for our drinking water, but for fluid to reconstitute the dried foods we will be eating. Past attempts have failed simply because this piece of kit has stopped.

Scott - "The boat already had a Spectra system fitted. It's a highly engineered piece of kit that forces seawater at very high pressure through a membrane that separates the salt from the seawater via reverse osmosis. It's a terrific machine, and will produce 24 litres of pure water every hours – powered from the 12v marine batteries that we charge via solar panels on the cabin roof.

Unfortunately our unit didn't work so we had to decide whether to recondition it ourselves, or buy a whole new unit (with a big, big price tag!). Also, although the Spectra is more reliable than other units, other teams have been critical about it due to there being no 'manual' override in the event of pump or power failure.

We had an invaluable day down with the Spectra guy – replaced the motor and the watermaker was straight into action. We also worked through a program of learning how the machine works, including how to run a manual override, which we can work in the event of either, power or pump motor failure.... Who says there's no manual override! Well worth the learning!"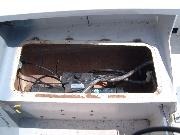 Neil – "A long morning was spent with Scott from Spectra Watermachines to get an instructional run-through of how our water maker works and what to do if it doesn't! Lots of information was taken in and it was an extremely valuable experience considering the impact on our row if the water maker stops working. Although our machine hadn't had any preservative solution run through it, nor had it been run for almost two years, after about 20 minutes of running we were producing good palatable water. 10 minutes previously, however, it both smelt and tasted of bad eggs!"

The photo shows the refurbished watermaker on board.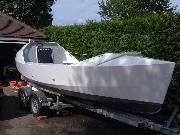 During the last race, and whilst on moorings and in transit, the boat has suffered from superficial damage. We decide to strip off the old sponsorship logos, and Neil sets about filling, sanding and smoothing out all the knocks and bashes. A few quotes (and finding a car paint shop with a large enough oven!) and she's in for a brand new paint job. Looks fantastic …… now we just need some sponsorship branding!

The photo shows the boat, with a new paint job.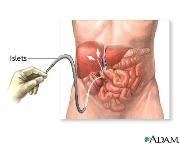 Click here to a message from our new Team Patron - Richard Lane OBE. Richard is the UKs first successful Islet Cell Transplant patient and tells of the success provided by diabetes research.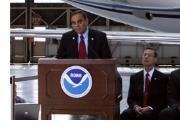 Scott - "A few reports are coming through of predictions of an unseasonably bad hurricane season ahead. Whereas we will be crossing at a time outside the full hurricane season (which technically ends in November), we are keeping a close eye on expected activity. Especially as a team that crossed at the same time 2 years ago, were hit by 3 different tropical revolving storm systems that pinned them down for a total of 10 days. The leading body on this in the US predicts a 75% chance of above normal activity this year. See NOAA Press Release here In case you were wondering what the big deal about tropical revolving storms is, check out this footage recorded by Don Mee in the Atlantic ...... Dom Mee in Hurricane...... He did survive. He was rescued by a Canadian Coast Guard cutter"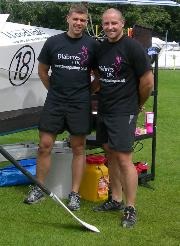 Scott - "We were back at the river launch site at the Ouse Valley River Club the following day to show the boat and gather a few coins for charity. a bit of a washout event due to the rain - but as ever lots of interest in the boat and what we are doing. Thank you to all those who came to wish us well and made donations to Diabetes UK."

Neil - "Really enjoyable day, just a shame that the weather didn't turn up. Plenty of interest in the boat and also surprised at the amount of people who said that either they or someone they knew was affected by diabetes. This makes the project all the more worthwhile and hopefully the money we raise can make a difference."

Picture - At our charity stand where we displayed the boat and some of the gear we'll be taking - and had a great afternoon giving out balloons and answering questions.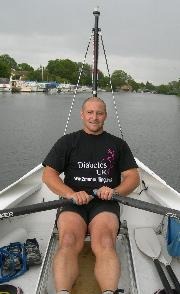 Scott - "After our initial venture onto water to make sure the boat wouldn't sink, this time we were more organised - even sporting our new branded t-shirts. After much rain the river was fast flowing - fine going against the current, but flowing with the current was scary. She's a heavy boat and gathers a lot of momentum and is pretty difficult to stop quickly with just a pair of oars. Luckily she's pretty easy to move around, especially with the rudder fitted this time, and we managed to guide her pretty well - even if we couldn't stop her!. Next water trail is planned at sea. We've a few weeks now where the boat will be stripped down, repainted then made sea-ready - hopefully by end of July allowing us time to fully test her at sea over the summer months."

Neil - "Professionals now! Slick operation this time. With no excursions into overhanging trees or booms, we took to the water like naturals (having a rudder helps!). We had to be on our toes though as the river was flowing quite quickly, but now showing off our new team t-shirts we were starting to look the part."

Picture - Neil sporting his newly branded t-shirts on the River Ouse. Just before the downpour, thunder and lightening!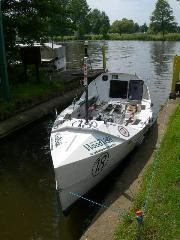 Picture - The boat - stripped of her previous sponsors finery. Now a blank canvas for our own sponsors, whoever they may be!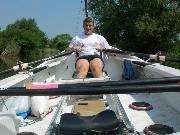 Scott - "So, we head off up to the Great Ouse in St Neots, Cambridgeshire, to put her on water to check she won't sink! It took us a lot to get the boat in the water. Not the smallest of vessels to launch at the side of a river – but with the help of Ouse Valley River Club we managed it. Our rowing wasn't up to much, but a great day on the river, and all seems to we working okay so far…"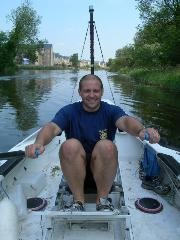 Neil - "This is why we practice first! After our first attempt at a launch where the slipway wasn't long enough and I found out that my car handbrake wasn't that good, we managed to locate an ideal slipway and with the help of the OVRC float tested our boat rather than our previous try of boat, trailer and car! Proving to be a successful test we continued to make a go of showing St. Neots rowing club what we were made of! This turned out to be 'not a lot'! We persevered and by the end of a couple of hours rowing up and down the Ouse, we kind of had the hang of it; that's if getting the hang of it includes getting tangled up in overhanging branches and getting trapped on a boom by the current!! An overall success (as I didn't sink my car!) and has given us plenty to think about in terms of preparation. Bring on the Atlantic!!!"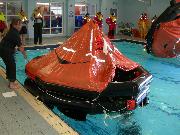 Scott - "After the hard work on the Ocean Yacht exams, we then had the fun bit of sea survival, VHF radios, and first aid a sea. Basically a great few days letting off flares, launching and inflating liferafts, and learning how to re-start a heart!...... It had its serious side too, but definitely a big learning curve and really brought home the enormity of what we are undertaking..... For sure there are risks, and now we at least have an understanding of them and what we might need to do."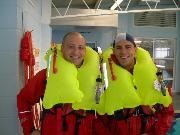 Neil - "Think we were shown every horror scenario possible, but still not put off, slightly scared but not put off! Hard to imagine what we are facing out there but this has given us a thorough look into what to do and how to cope if all goes wrong. Feel confident in the uses of all our safety equipment and now know why life jackets aren't the height of fashion as you can see. (And what is that on your head Scott?)"

Picture - Taken at the Sea Survival course. Not sure who either these stupid looking blokes are??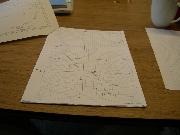 Picture - The photo shows one the exam papers. For the astro-navigators out there is was a noon-run-sun along with a big bit about Tropical Revolving Storms and route planning across the Atlantic - fun!

Scott - "In order to meet the requirements of the Spanish Port Authorities that oversee the waters around La Gomera, and to give ourselves a chance of actually guiding ourselves across the Atlantic we have to learn for, then sit, the YHA Ocean Yacht Master Exam. Until this course, I always thought it was going to be difficult to be able to plan a route by using a sextant, the sun and the night sky. I was right! The exam was tough, but we had some fun too."

Neil - "With no previous sailing/yacht type qualifications, the prospect of the RYA Yacht Master Ocean course wasn't something I was particularly relishing.Yvonne at KTY Yachts, however, made this a very enjoyable and informative course. In a class made up entirely of ocean rowers we were put through our paces using a sextant, planning routes and being made aware of the weather systems we will face. Despite the monotony of number crunching it was a really enjoyable course, I just hope the GPS doesn't break!"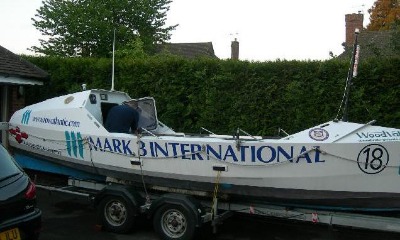 Picture - The photo shows our 23ft/7m Ocean Rowing boat - parked up on her trailer. Neil is just going into the 7ft cabin that will be home to both of us when the storms come in and we need to batten down the hatches and ride it out!

Scott - "The boat arrives - along with a load of kit that Rob and Pete (the previous owners) threw in with it..... satellite phones, EPIRBs, VHFs, GPS, SeaMe, lifejackets, para-anchor, drogue, and even a load of provisions. It's a great start but the boat still needs a lot of work. She's been sat for almost two years - and the last time she was rowed she was finishing a 68day journey. Definitely in need of some tlc. We now have a list as long as your arm of things to fit, repair, upgrade, replace, clean, build, re-do.... But is great to have our boat!"

Neil - "After quite a bit of research comparing the costs, work required etc of various boats along with the possibility of a new build, we decided that our best option was Mark 3; Chinese built and a veteran of three successful crossings.
Although in need of a few repairs (mainly cosmetic we hope!) we feel we have acquired a very good vessel with which to place our faith in. She came with a lot of good kit too and this has given us a great start in our venture.After the neighbours had got over the shock of my car being replaced by an ocean rowing boat, she now sits outside my garage and we're looking forward to carrying out all the necessary work to get her ready for sea!"


Scott - "It kind of started like this. I bumped into a guy called Clint Evans at a BDO event. I told him I'd recently climbed Everest, and he told me he's recently rowed the Atlantic. This was something that Neil and I had been thinking about, so a few weeks later Neil, Clint and I met for a few drinks so we could find out more. The next thing - we'd moved from thinking about doing it, to actually doing it! We then began looking for a suitable boat. We knew we were going to need to need the finance support of a corporate sponsor, or two (and we still do!), but realized in any event that we had neither the time or the money to look at having one made. We began our long hunt – and eventually we found the one we thought required least work and into which we'd pour our effort…."

Neil - "Having experienced a Himalayan expedition with Scott and then seeing him successfully summit Everest, I realised that you can fulfil your dreams – you just need to want it to happen enough.
When he suggested this rowing challenge I jumped at the chance to partner him and now that we are progressing with our preparations it is no longer 'something that someone else does'.
Our initial target was 2009 but after a few too many Guinesses with Scott and Clint Evans back in February we were convinced to strike while the enthusiasm was still fresh, and providing we keep momentum going, the start line this coming December is very achievable.We have experienced plenty of ups & downs already but this just adds to the excitement, and coupled with my diabetes the challenge is significant, along with the fact that neither of us have previously rowed on water!!!"